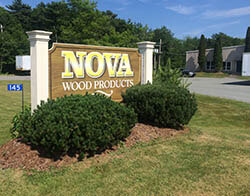 Nova Wood Products Limited, located in historic Lunenburg, Nova Scotia, has been manufacturing and installing quality millwork and custom casework for the construction industry since 1972.
Our operations are housed in a state-of-the-art building with production space exceeding 27,000 square feet. Utilizing the latest in CAD, estimating and office software, Nova Wood Products is able to respond efficiently to customer needs and requests in the estimating, planning, fabrication and installation of every project.
We specialize in supply and installation of large volume casework for schools, universities, hospitals and other institutional facilities. Completed custom projects include offices, hotels, casinos, retail stores, public safety centers, senior citizen complexes and university residences. The combination of a large, well equipped custom wood work shop and a state-of-the-art case goods manufacturing plant have created an ideal facility to blend the ability to produce high volume production run jobs with custom projects.
Our skilled craftsmen are adept in working in the plant and on construction job sites with products ranging from exotic hardwoods to ultra modern plastic laminates. This experience, combined with up to date manufacturing technology such as CNC panel saws and machining centers, enables Nova Wood Products to consistently manufacture high quality products. Researching new materials, techniques, hardware and equipment is done on a continuous basis to provide clients with the best in product choices.
Nova Wood Products in the Community...​
​
​The Ark is a community organization dedicated to providing services for persons with special challenges. Nova Wood Products is happy to donate material to their Woodworking program for the construction of new products.
You can find some of their programs here.
​ ​
NOVA WOOD PRODUCTS LIMITED TOPS ALL WITH 3 AWMAC ATLANTIC AWARD WINNERS
Three of four projects Nova Wood Products entered in the annual AWMAC Atlantic Chapter event were among the 8 winners selected by the judges.

Nova received both the Diamond and Gold Awards in the Commercial Design category. The Lunenburg County Lifestyle centre designed by Lydon Lynch Architects took the Diamond Award while the East Hants Hospital (Truro Hospital) designed by WHW Architects took the Gold Award.

Nova also received the Diamond Award in the Guarantee and Inspection Service (GIS) category with the Bedford High School (New CP Allen High School), designed by WHW Architects.

Nova Wood Products would like to thank the AWMAC Atlantic Awards Committee and congratulate all the nominees for their outstanding workmanship and design.
We are Committed to You and our People
We believe in providing great service and quality products to satisfy customer needs. With effective project planning, quality control, a caring and experienced staff and a genuine desire to be the best, Nova Wood Products works to provide you with consistent satisfaction on every project.
At Nova Wood Products, people make the difference. With a skilled workforce of nearly 40 people; care, commitment and quality are combined with modern equipment and efficiently designed facilities to produce top quality products, on time and on budget. We plan for efficient production, find ways to make improvements, and provide continuous training. Health and safety conditions are always top of mind to ensure best possible working conditions.
"To lead the Architectural Woodwork sector in the construction industry, by providing quality craftsmanship, timely deliveries and friendly, reliable service through effective operations that will provide customers with successful projects and enrich quality of life, feeling of pride and financial security for owners and employees."
Part of the South Shore Community for over 40 Years
Nova Wood Products Limited, located in historic Lunenburg, Nova Scotia, has been manufacturing quality mill-work and custom casework since 1972.
From humble beginnings, the facilities at Nova Wood Products have expanded over the decades to a become a large, modern and well organized manufacturing plant. Primarily servicing commercial and institutional customers in the construction industry, Nova Wood Products manufactures cabinetry, furniture and mill-work in one of the largest custom shops in Atlantic Canada.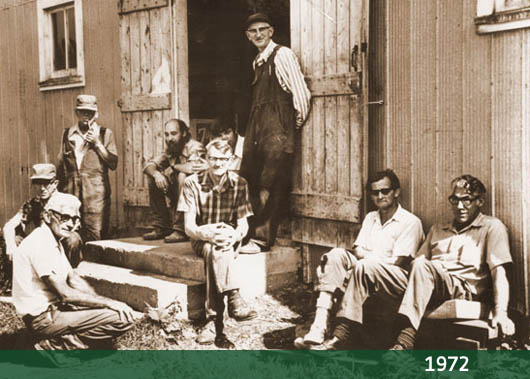 Nova Wood Products is a proud member of the Architectural Woodwork Manufacturers of Canada (AWMAC), a founding member of the Canadian Atlantic Chapter, and a member of the National Board of Directors.
Nova Wood Products is also a member of the Architectural Woodwork Institute based in Virginia, U.S.A. and is certified to produce Premium Grade products in AWI's Quality Certification Program.