What's happening at Nova Wood Products
Congratulations to the Nova Wood Team!
​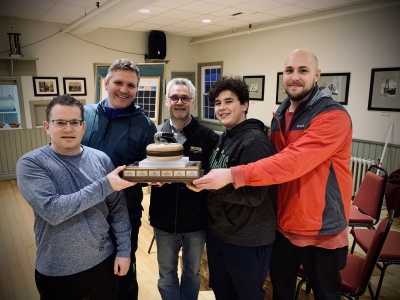 ​
The Nova team competed in the 10th annual Lunenburg Curling Challenge at the Lunenburg Curling Club on Jan 25, 2020. It was a great event with good competition and good people. We were fortunate enough to bring home the trophy for the 2nd time, a trophy made by our own Kyle Mossman.​
The 5 person team consisted of Lead Chris Monaghan, 2nd Kyle Mossman, Mate Lorne Spence, and was skipped by Scott McVittie. We were also happy to have Oscar Larkins, son of Project Manager Mandy Larkins, join as a fifth to rotate through the lineup. ​
Thanks to sponsors Craig Munroe Financial Services and SBW Wealth Management ​for another successful event.
Congrats all!​
---
​​
2020 marks the 28th Anniversary of Nova Wood Products.
Nova Wood Products was recognized at the 2019 AWMAC Atlantic Awards night, receiving an hourable mention for the Sacred Heart University College of Health Professionals.
Nova Wood Products is proud to announce we had ZERO time lost to accidents in 2018. Our goal is to have the safest workplace possible, with ZERO accidents each and every year.
2020 will be an exciting year for Nova Wood Products as we work on contracts including:
Eli Terry Elementary School
Groton Middle School
Queen's Marque
Manchester Memorial Elementary School
Oxford Middle School
Valley Regional Hospice


---
Nova Wood Products Limited, the region's leading manufacturer of Architectural Woodwork and Cabinetry for the construction industry, requires Full-time Cabinetmakers, Finish Carpenters & Labourers
Cabinetmakers / Finish Carpenters must have related technical education and/or experience. Candidates should be well versed in blueprint reading and be able to perform cabinet making and finish carpentry duties using a variety of machinery and hand tools.
​Labourers assist the cabinetmakers, performing wood preperation, assembly and loading duties
Candidates must be willing to work on a team of dedicated craftsmen.
Nova Wood Products uses state-of-the-art machinery and offers employees a complete benefits package.​
Applications are available at:​
Nova Wood Products Limited
145 Schnares Crossing Rd.
Northwest, Lunenburg​
or email a resume to careers@novawood.ca​