What's happening at Nova Wood Products
Nova Wood Products is Hiring!
​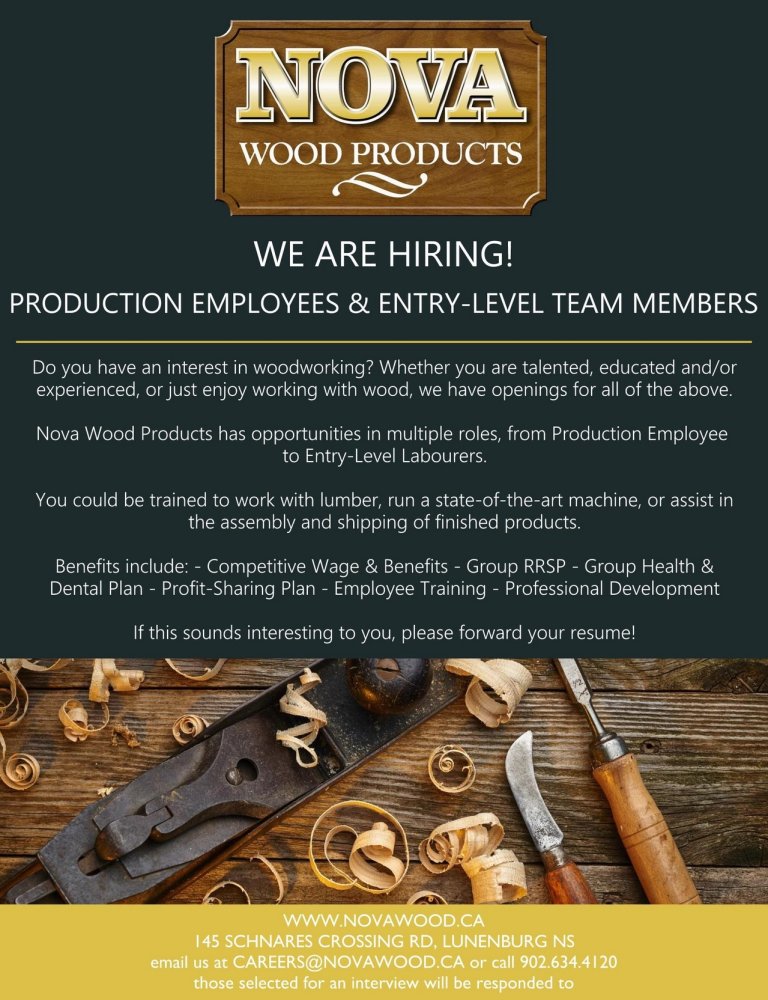 ​
Nova Wood Products Limited
The region's leading manufacturer of Architectural Woodwork and Cabinetry for the construction industry - requires Full-time Cabinetmakers, Finish Carpenters and Labourers.
Cabinetmakers / Finish Carpenters must have related technical education and/or experience. Candidates should be well versed in blueprint reading and be able to perform cabinet making and finish carpentry duties using a variety of machinery and hand tools.
​Labourers assist the cabinetmakers, performing wood preparation, assembly and loading duties.
Candidates must be willing to work on a team of dedicated craftspeople.
Nova Wood Products uses state-of-the-art machinery and offers employees a complete benefits package.​
Applications are available at our headquarters:
Nova Wood Products Limited
145 Schnares Crossing Rd.
Northwest, Lunenburg​
or email your resume to
*Nova Wood Products is an Affirmative Action/Equal Opportunity Employer (AA/EOE).
2023 marks the 31st Anniversary of Nova Wood Products!
Nova Wood Products was recognized at the 2022 AWMAC Atlantic Awards, receiving the GOLD AWARD for the Queen's Marque.
2023 will be an exciting year for Nova Wood Products as we work on contracts including:
Confederation Centre for the Arts
Saint Mary's University Sobey's Entrepreneurship and Innovation Hub
Codiac Regional Policing Facility
Fisheries Museum of the Atlantic
Halifax Library Café
Lunenburg Academy Interpretive Centre
Richard DeChristofaro Learning Center